Upcycling vintage and retro furniture….
upcycling definition: 'reuse discarded objects or material in such a way as to create a product of higher quality or value than the original' - the collins dictionary
about me
Hi I'm Sophie. I live in Fareham, Hampshire with my husband and three children. I source quality vintage pieces, that would otherwise have been skipped, tipped or chopped up for firewood. I fix them, revamp them, give them a more modern edge and create statement pieces for your home. I use high end paint products to do this from companies such as Little Greene Paint Company, Autentico, Paint and Paper Library, that have a durable wipe-able finish to keep them looking good for a long time to come. The style i aim for is not found in your high street shop, it's a bit art - deco, a lot mid-century with a touch of eighties in the mix, a veritable concoction of my favourite eras.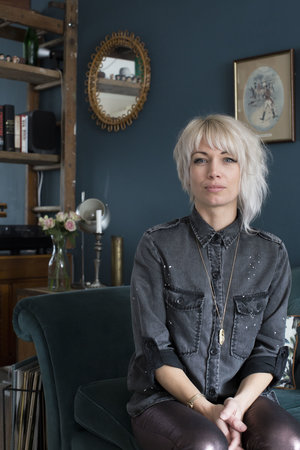 "I am so happy with this sideboard. It has been beautifully designed and Sophie was great throughout the process. She consulted us to make sure we were happy and arranged delivery. Just fantastic! "- Steph
"Absolutely love it .Exactly how I wanted it to be with extra trimmings, would highly recommend" - Jane
"It's a thing of beauty! Looks even better than in pictures. I am so pleased with it. Fantastic seller, really helpful and sorted shipping for me. I cannot recommend her enough"- Tizzy
This place right here is where you will not only be able to shop my furniture but also where i will give you my top tips for upcycling your own treasured items along with sharing how to decorate your home, on a slimmer than shady budget, so that you have more left to spend on the things you REALLY want / need. Like one of my fancy pants cocktail units ; )
What can be better than finding things you really love at a more attainable price? Owning an original item that no one else has (or very few people)? Reusing something that would otherwise be binned and giving it a new lease of life? Contributing towards a more eco-friendly and sustainable kind of living? I'm not sure which reason i like best but i do know that i love them all. If you feel the same, then please stick around, i think we could be friends : )
Anyways, feel free to message me with any queries, request a bespoke item, subscribe to my blog for weekly interiors related ramblings or jut get in touch and let me know what amazing vintage bargains you have found. I get almost as excited about other peoples finds as I do my own…
Thanks for stopping by,
Sophie.